The next version of Windows 10 is finally ready to download as a free update that adds some potentially game-changing new features as well as some welcome features that bring it up to par with what you might expect from a smartphone.
Instead of adding tools for people creating media, as the previous two updates have, the latest version of Windows 10 is focused on time and task management.
"We want to give you back some of your greatest currency, your time. Our hope is that you'll have more time to do what matters most to you – create, play, work or simply do what you love," said Yusuf Mehdi, corporate vice president of Microsoft's Windows and Devices group.
Wasn't it called Spring Creators update?
That's what was reported earlier in the year, but Microsoft has made the wise choice to simplify the name this time round. Instead of trying to work out which year the Fall or Spring might be in, now we've got month and year, which makes a lot more sense.
April 2018 update – bit late isn't it?
It's true. The update has only just squeaked in at the last minute to make it into April. It was scheduled to be released a couple of weeks ago, but a bug found at the last minute by testers had to be fixed before it was released beyond the early adopter "Windows Insider" community.
Most people will probably get the update after April as it gradually rolls out.
How do I get it?
The easiest way is to wait for the notification from Windows Update, which lets the user know a feature update is ready to install, but you can also manually check for updates from the Settings app. Failing that you can manually download the latest version of Windows 10 direct from Microsoft and upgrade from that.
Will it be forced on Windows 10 users?
In a word, yes. While there are ways to stop Windows 10 from downloading it, Microsoft only supports older versions of Windows 10 for two years or less from release.
That means that the Windows 10 Anniversary Update, which was released in August 2016 is no longer supported and will not receive further bug fixes and security updates. The Creators Update, released in April 2017 will no longer be supported from 9 October this year, so the only way to keep using a supported version of Windows 10 is to keep upgrading.
Timeline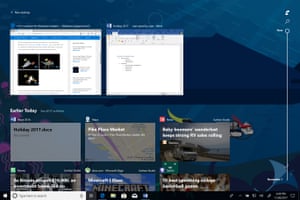 Timeline adds a history of recently opened apps and files to task view.
The biggest and most obvious change is the addition of a timeline feature to the task view. Essentially a history of the apps and files you had open earlier that day or week, Timeline allows you to see what you were doing on the PC you're currently using and other devices, and resume from where you left off.
As Microsoft's apps on other platforms gain Timeline support their activities will show up on your PC. One of the first is Microsoft Edge for Android and iOS.
Focus Assist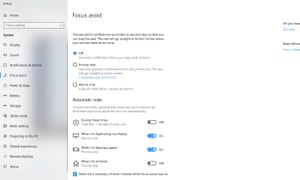 Focus Assist on Windows 10.
Focus Assist is a beefed-up version of Do Not Disturb. You can turn it on manually or set it up on a schedule, and it'll block notifications and other distractions until you're done. At the end it'll provide a summary of what happened while you were doing whatever it was you were doing.
Like a DND mode you can whitelist certain people so that their emails and messages get through, even when you're trying to concentrate.
Dictation
Microsoft is pushing improved dictation as a feature of the April 2018 update. In any text box you can now hit the Windows Key + H and start talking.
Cortana improvements
Cortana will not pop up suggestions of files and apps you might want to resume from previous sessions.
Microsoft's virtual assistant gets some new powers with the April 2018 update. It will now suggest tasks you might want to resume from previous devices, tapping into the Timeline feature. Support for some smart home appliances has also been rolled out, including Google's Nest thermostat, and natural language voice control for third-party apps such as Spotify is also being added.
Microsoft Edge
Still seeking to convince people to use it over Chrome, Microsoft's Edge browser gains the ability to strip out clutter when you print from a website, and the ability to mute audio from specific tabs. Some new Grammar Tools will also help break down complex words into syllables and highlight nouns, verbs and adjectives. That adds to several other ebook, design and gesture support improvements.
Nearby sharing
Microsoft has implemented its own version of Apple's AirDrop, sending files over Bluetooth and wifi without having to mess about with cables. You can limit it to just your devices or any Windows 10 device. How useful the feature turns out to be depends on how many Windows 10 devices you have around you.